+ We have a nationwide footprint and many high-speed locations to choose from.
NFO has outposts in
Seattle
,
Los Angeles
,
Atlanta
,
Chicago
,
New York City
,
Dallas
,
San Jose
,
Denver
, and
Frankfurt
.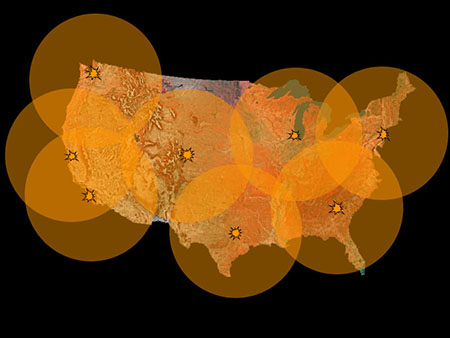 This table shows our location choices. It also shows the approximate ping you would get to each location. With our high-quality bandwidth, your ping is primarily dependent on your distance from the city of the server.
Location
Capacity
Your ping


(at 54.242.4.108)

Example IP
Atlanta (InterNAP)
10000 Mbps
16 ms
64.94.238.13
Chicago (InterNAP)
20000 Mbps
22 ms
216.52.148.4
Dallas (InterNAP)
10000 Mbps
43 ms
66.150.214.8
Denver (InterNAP)
1000 Mbps
48 ms
72.5.102.10
Frankfurt (InterNAP)
20000 Mbps
89 ms
31.186.250.100
Los Angeles (InterNAP)
10000 Mbps
63 ms
66.150.188.101
New York City (InterNAP)
20000 Mbps

7 ms

63.251.20.100
San Jose (InterNAP)
1000 Mbps
71 ms
66.151.138.9
Seattle (InterNAP)
20000 Mbps
69 ms
66.150.164.26
Seattle (Premium)
20000 Mbps
73 ms
208.146.44.100
Most of our locations use pure
InterNAP
bandwidth. We chose InterNAP for its performance and reliability, and so have many other companies,
including Microsoft, Alaska Airlines, Chase, and Sony
. We buy
directly from InterNAP
, not through a reseller.
InterNAP
gets its high performance by buying direct connections to many
Tier 1 providers
, including
Verizon
,
AT&T
,
Sprint
,
Savvis
,
Verio/NTT
, and
Level3/Global Crossing
. With InterNAP, you don't need to worry about your data traveling around the country to reach a peering point so it gets put on the right network; InterNAP puts it on that network immediately, right at the source. There is no middleman, no shuffling between backbones. That translates to fewer hops and lower latencies.
Our Value locations uses a cocktail of InterNAP bandwidth and other providers that are subject to change at any time. These providers will be other backbones such as Level3. The combination of InterNAP and the other providers is designed to provide a higher level of redundancy and better latency properties than the other provider alone, although not quite up to the standard InterNAP level of super-low pings.

It is important to note that the properties of the Value bandwidth may fluctuate over time as we choose different providers and alter the mix with InterNAP. Sometimes we may make a change required to keep the price point low that would increase the ping for a segment of the players.
Our Premium locations are based on a strong foundation of InterNAP bandwidth, but through the use of special routing rules and other bandwidth providers, we enhance it even further so that latencies are the lowest we can make them for all customers. "Premium" locations should offer the best possible latencies in their respective cities. Not just lower than InterNAP alone, but lower than anyone else out there.
For more example IPs and test servers, please visit our
server listing page
. Don't forget that we also have a 2-day free trial so you can give your own server a whirl.
If you (whether as our customer or not) have problems with
any
of our InterNAP or Premium bandwidth,
let us know
! We and InterNAP can often resolve lag issues by actively changing the outgoing path from the server, and sometimes even from your client to the server.